When it comes to interior design trends for 2023, many are focusing on the two areas of the home where we spend the most time. One, the living room. And, two, the kitchen.
More people than ever are continuing to work from home. Therefore, we want to make our space as meaningful, soothing and inspiring as possible.
I mean, why not? All together we're spending more time at home.
Interior design trends for 2023
Of course, the pandemic has undoubtedly played a major role in pushing people to rethink their homes' interior designs. Also, it continues to affect many of the trends we're seeing today.
Lazzoni Modern Furniture compiled a list of interior design trends for 2023. It put together these tips for interior design ideas from various experts and sources. Hopefully, this will help you make your living space a reflection of your personality while staying on trend.
Nature-inspired rooms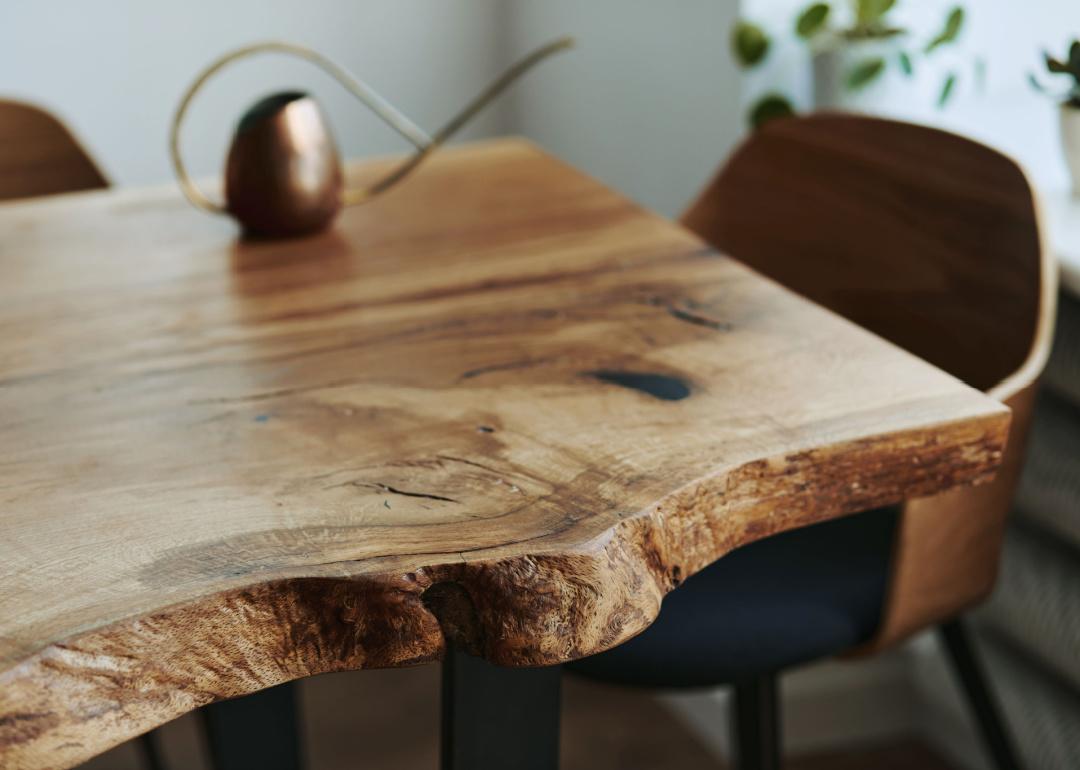 Followtheflow // Shutterstock
Nature—even if it's manufactured—has calming effects. In interior design, it's all about bringing the outside in and paying tribute to the natural world from the comfort of your home.
You can create a nature-inspired interior design by swapping out the acrylics for more sustainable materials, such as oak.
For example, you can add live-edge tables or big stumps as end tables in the living room. If you're lucky enough to find a live-edge dining room table, all the better.
Finally, adding houseplants in the kitchen or living room brings that outdoors feeling inside and captures one of the interior design trends for 2023.
Wellness inspired home office design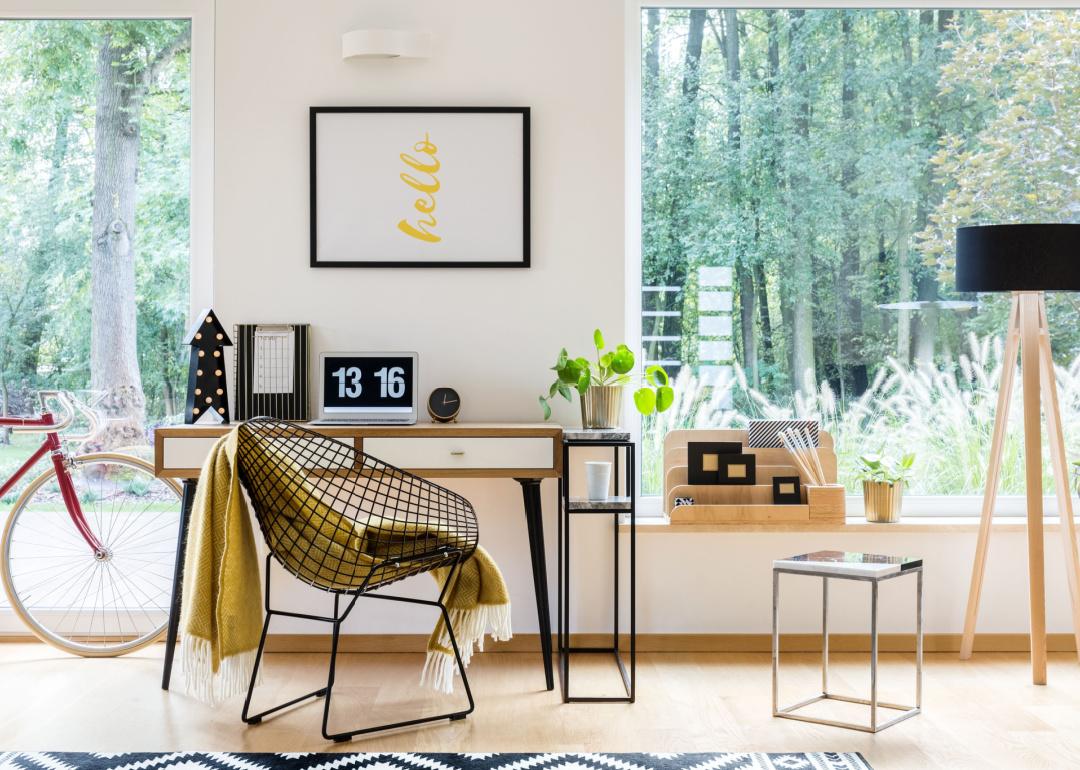 Ground Picture // Shutterstock
When it comes to working at home, self care is key. That's why interior designers are increasingly thinking about how spaces affect people's moods and temperaments.
So for 2023 expect to hear a lot about "wellness design," especially in the home office. This design trend focuses on enhancing well-being by improving air quality and letting the right amount of light in.
Also, there is a focus on allowing more space so that the home office worker can get up and move around more. Because we all know that sitting is almost as bad for you as smoking is.
Convivial seating trends in the living room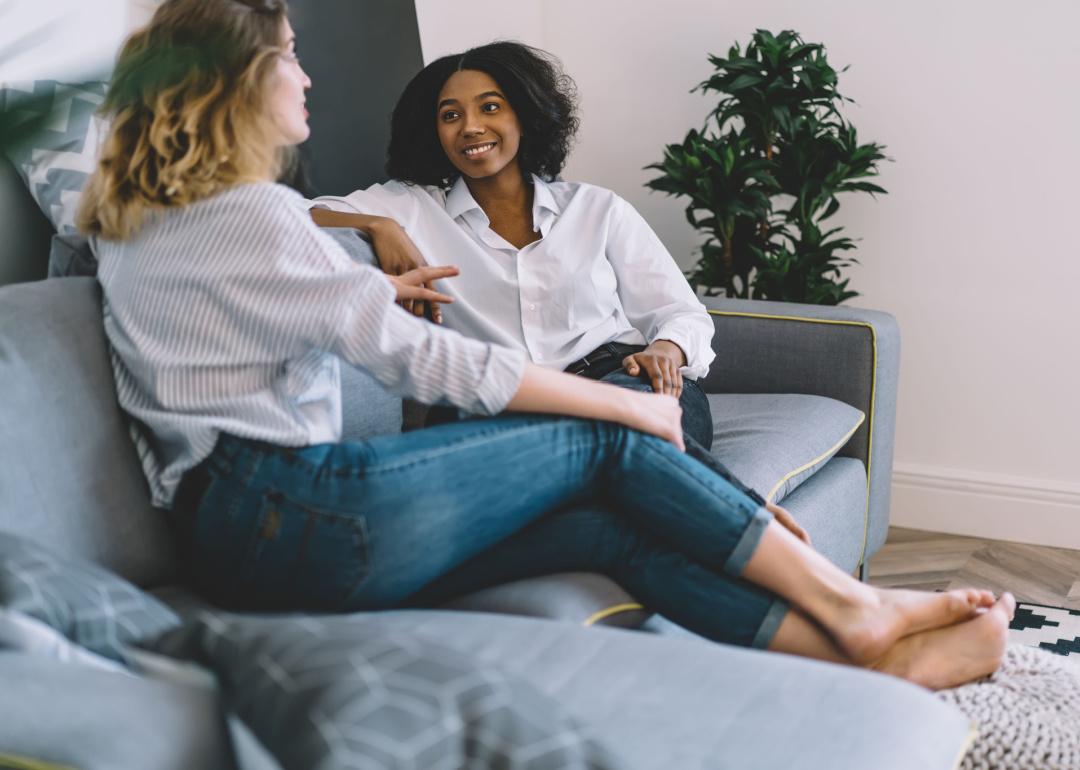 GaudiLab // Shutterstock
People hardly saw the inside of each others' homes during the pandemic, save for a glance at their background during a Zoom or FaceTime call. So it's no surprise that we want to connect with each other even more in 2023.
One of the biggest living design trends is choosing furniture that suits that mood of reconnecting. For example, looking for seating that has bold curves. These will allow for the best seating for people to engage in deep conversations.
"This new era in furniture design sees a selection of seating options which are all about encouraging the art of in-person conversation," designer Rory Robertson wrote for Livingetc.
You don't need a special purchase to achieve this design trend. Try turning a chair the right way or facing one seat toward another can go a long way toward starting a dialogue. Basically, use your existing or new furniture to create conversation nooks.
Creating a retreat at home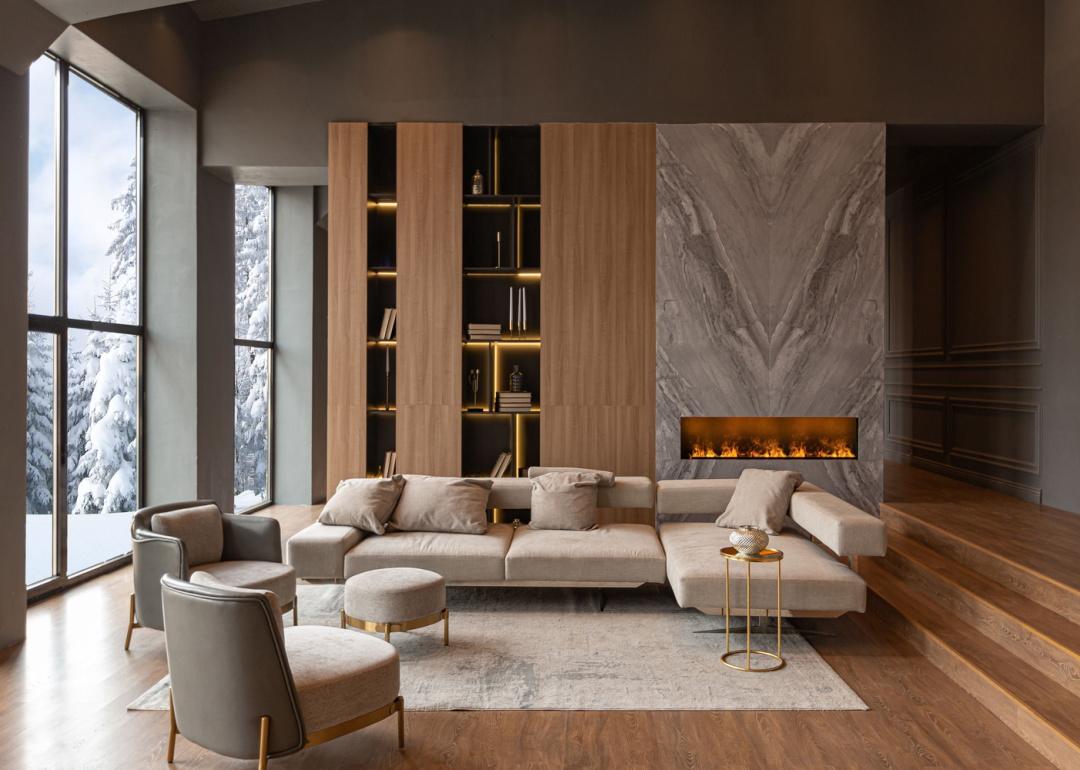 Pinkystock // Shutterstock
Continuing to play off the 2023 interior design trend of reconnecting, some people are choosing to redecorate their homes to reflect places the pandemic prevented them from visiting on vacation.
Tiffany Howell of Los Angeles design studio Night Palm told Who What Wear, "All my clients are like, 'Ooh, I want my house to look like that villa in Italy I used to go to but haven't been to because of COVID.'"
Achieving that anywhere-but-here feel can be as simple as swapping curtains and adding accents reminiscent of dreamy travel destinations. Designer Corey Damen Jenkins shared on Instagram, for example, how they added a show stopping light fixture and a flower-filled ceiling to recall the manicured gardens from across the pond.
Kitchen interior design trends for 2023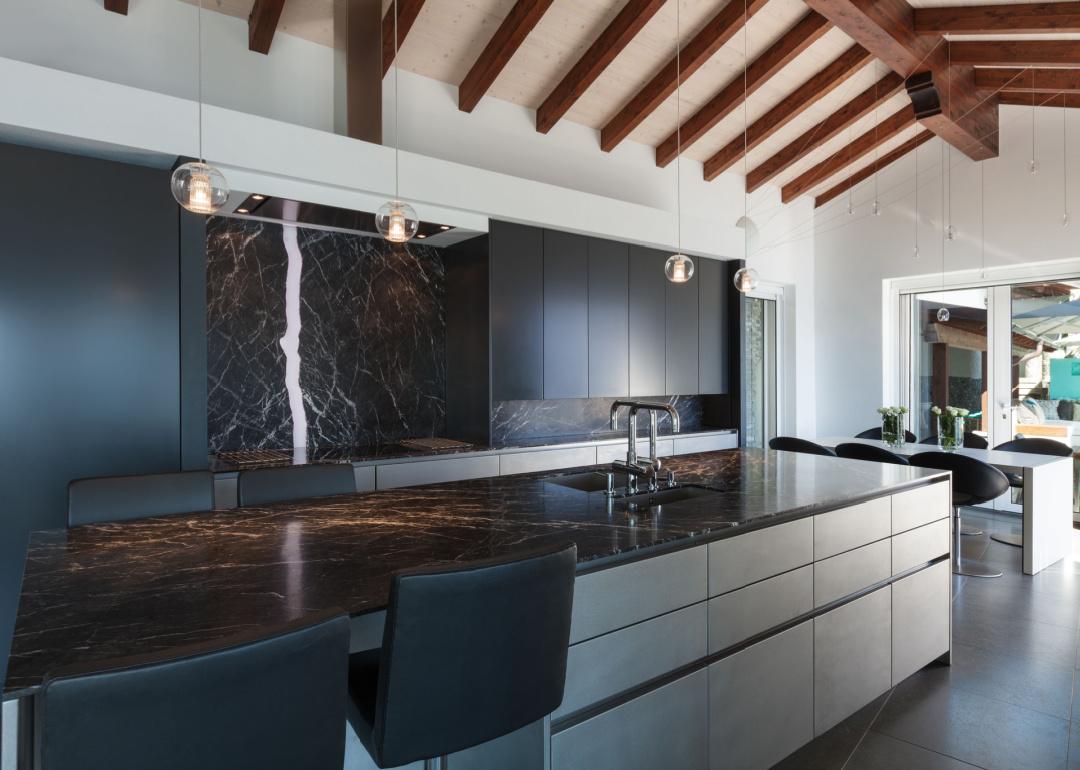 alexandre zveiger // Shutterstock
When it comes to kitchen design trends, designers are recommending a few things. One of them is using bold marble countertops.
They say that marble may not ever go out of style, but it'll get a colorful update in 2023.
For example, rather than choosing a plain old black or white marble countertop, designers suggest splashes of color, such as blue.
"More and more homeowners are incorporating bold statement pieces of marble in their kitchens to create a focal point and add a touch of drama," designer Hilary Matt told House Beautiful.
Another kitchen trend? Sleek appliances. Although, to be honest, since America fell in love with stainless steel appliances, they've been pretty sleek for years.
However, from the interior design's point of view, they want to remind you that your appliances are just as key to your home's layout as the furniture.
For example, you'll want to keep your interiors as seamless as possible, ensuring every part of your home sticks to your theme.
"Induction cooktops and ranges are especially gaining traction because of their sleek look, safety and efficiency," designer Jeff Andrews told House Beautiful.
Consider an induction worktop, for example, as shown in the kitchen below. It will give you a sleek and unobtrusive surface.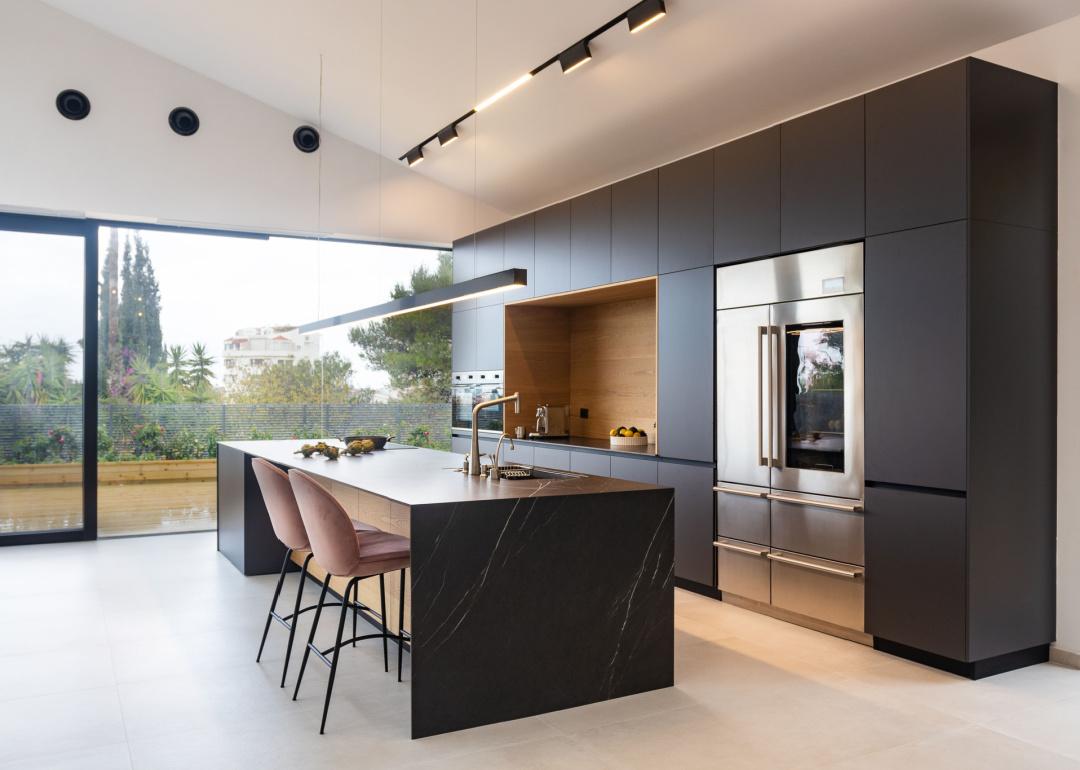 Luciano Santandreu // Shutterstock
Design trends for multifunctional spaces
As I mentioned earlier, in 2023 we expect people to continue working from home. And if you don't live in a big enough space for a dedicated home office, then you're going to want to design multifunctional spaces.
So, with people looking to make the most of their space, there's definitely a rise in interest for designing multifunctional spaces. That's why interior designers suggest considering ways places or pieces in your home can do double duty.
For example, can you make it so that a kitchen island can be a dining area as well as a home office space?
If you live in a studio apartment, you may want to consider adding a Murphy bed. That way you can fold it up and leave room for working at home or even exercising at home, such as on your Peloton bike.
Throwback interior design trends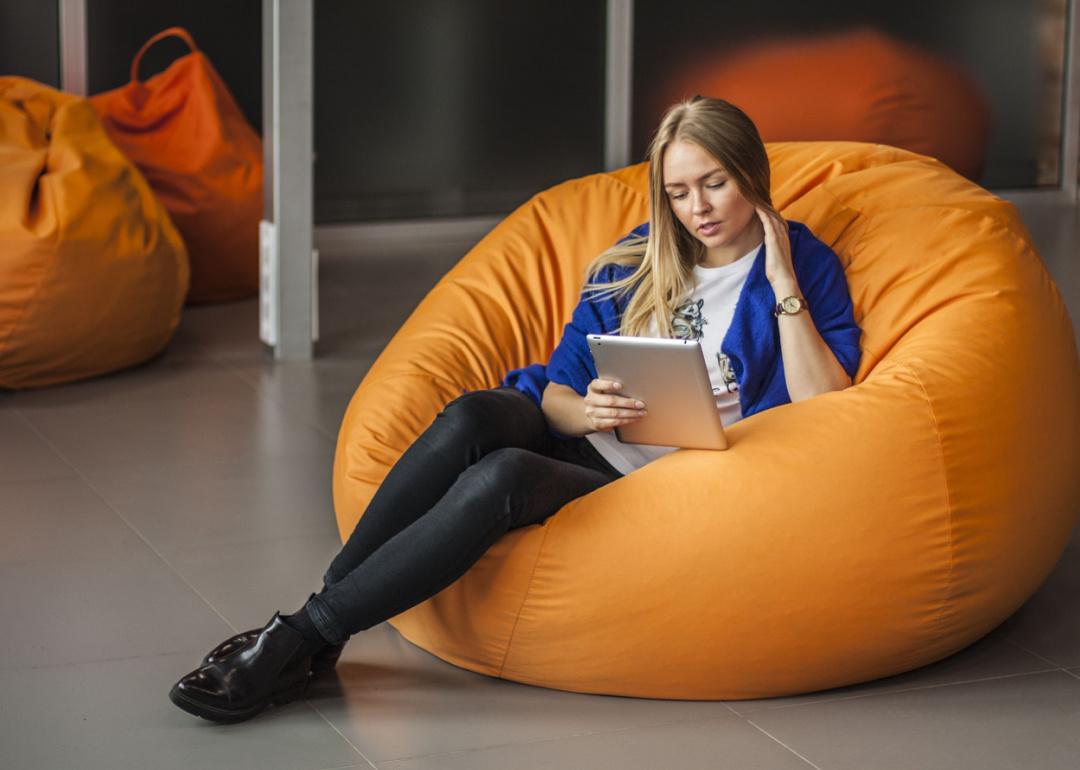 Helena Olena // Shutterstock
You know the old saying: what's old is new again. Well, it's true with interior design trends for 2023. 2023 meet 1973.
I mean, recycling trends from the past is nothing new. Now, it's time for the '70s to make their return. Please, though, no harvest gold kitchen appliances or burnt orange shag carpet in the living room.
However, comfy bean bag chairs in warm, brown, and orange tones of '70s design for that conversation nook we mentioned earlier? Yes, please.
For some additional throwback designs, check out these mid-century modern, space-age furnishings.
Bold bathroom tile interior design trend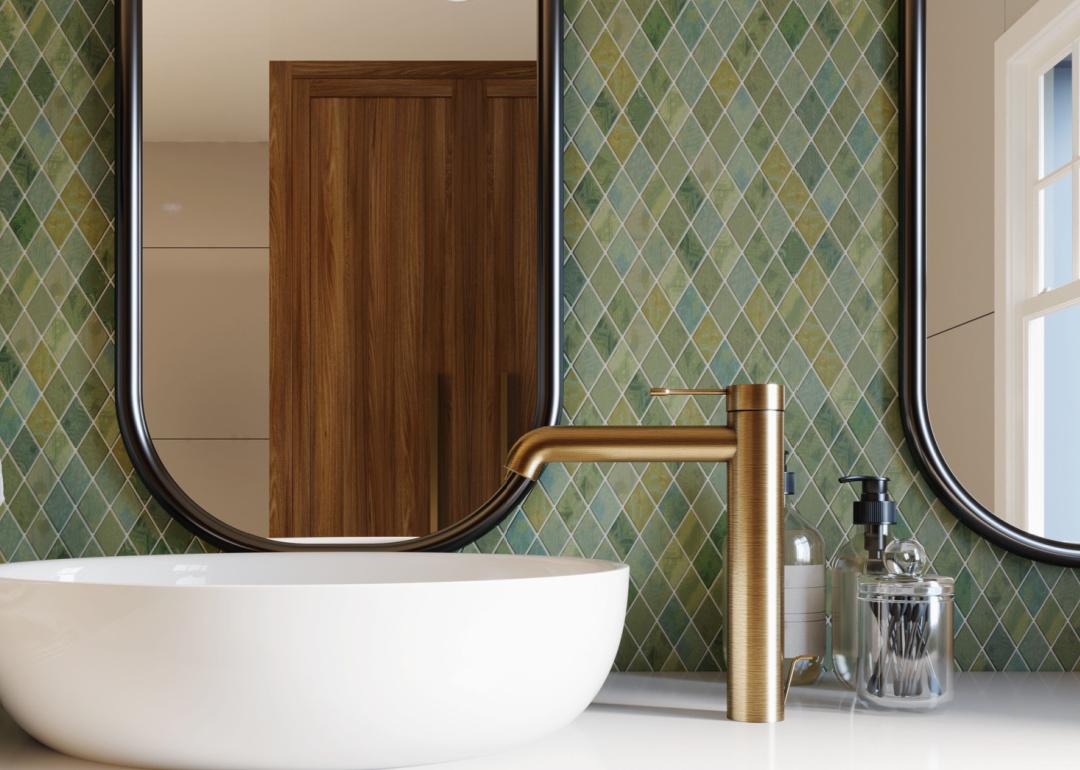 IZ1737 // Shutterstock
When it comes to bathroom interior design trends for 2023, say hello to bold tiles. They are going to be all the rage.
Bold tiling makes a great statement feature that will give your room some pizzazz and a touch of sophistication. Evelyn Pierce Design Studio refreshed a bathroom by covering it with stunning blue tile.
Striking patterns will also give your room a sense of energy. So get creative, and don't just limit yourself to one color or pattern. Switch it up and keep it varied to make the most impact.
Here are moisture-absorbing plants that will thrive in bathrooms.
Upcycling is always on trend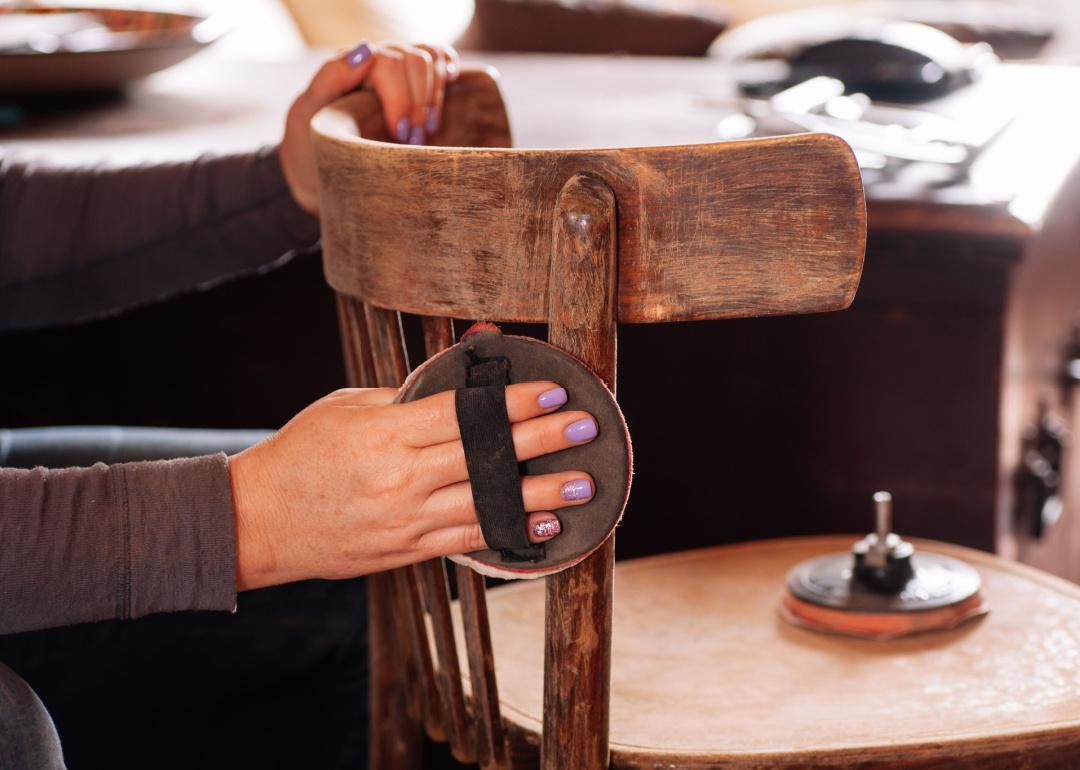 Lia_Russy // Shutterstock
Bringing something old into the new is always on trend. And upcycling will be one of 2023's great interior design trends.
There are numerous reasons to celebrate the trend of upcycling. For starters, upcycling is good for the environment. You're keeping items out of landfills by finding new life for them.
In fact, did you take the New York Times quiz about shrinking your carbon footprint? Then you know that buying fewer things is a small but worthwhile step towards helping the environment.
Also, when you go thrifting, you'll likely spend a lot less than you would at traditional retail. For example, we furnished almost all of our Maine house, with items we bought at the Habitat for Humanity ReStore, for just a few hundred dollars.
Finally, something old in your new home can bring in a level of sentimentality. And, perhaps a conversation piece.
Portions of this story originally appeared on Lazzoni Modern Furniture and was produced and distributed in partnership with Stacker Studio.