This article is all about Mid-century modern furniture that looks vintage and is vintage. However, in many cases, you can find contemporary versions. This allows you to decorate a mid-century modern home with appropriate furnishings.
To start I review how some modern furniture designs came to be — and how the space age of the last century inspired their design. Then, I'll offer suggestions on where you can get reasonable facsimiles of them from modern retailers like eBay and Amazon.
Essential pieces of mid-century modern design popularized by the Space Race
After the Soviet Union successfully launched the first-ever artificial satellite in 1957, the Space Race began in earnest. It was a technological and ideological competition to explore outer space. Both the Soviet Union and the United States wanted to launch satellites and put living creatures in space.
As U.S. leading scientists and politicians became increasingly confident in achieving this goal, ordinary citizens became enamored with optimistic visions of a future full of space exploration and life among the stars. Shows like "The Jetsons" and "Star Trek" gave viewers a glimpse of a future that could be.
At the same time, the development of groundbreaking materials hastened during World War II, introducing designers to fiberglass and plastic, which would remake material culture. These furniture pieces, a subset of mid-century pieces, were inspired by the forward-thinking, synthetic material heyday of the Space Race. They gave birth to sleek furnishings that looked like they belonged to another world altogether.
When it comes to Space Age design staples, which ones do you know? Living Spaces combed design history to compile a list of essential mid-century furniture pieces bolstered by the Space Race, from Ball chairs to Sputnik lamps.
Then, after showing you the original, I've found copycat pieces inspired by these Space Race designs. It's exciting to know if you have a mid-century modern home that you can decorate with authentic-looking tables, chairs and more.
Here are some more contemporary design trends.
Sputnik lamp: mid-century modern lighting
Aaron Lynett/Toronto Star via Getty Images
The Sputnik lamp's name came from the Soviet Union's Sputnik I, which launched in 1957 and became the world's first artificial satellite. Its success is widely credited with kicking off the Space Race, so it's only natural that one of the most iconic Space Age design pieces carries its name.
Also commonly known as the Sputnik chandelier, the lighting staple was first created by Italian designer Gino Sarfatti, whose sketch dates back to 1939. By the 1950s, Sarfatti produced his drafted version, calling it number 2003. However, its better-known moniker, Sputnik, eventually took over.
Sputnik lamps are known for including a base surrounded by multiple arms, each containing a light bulb. Even today, the satellite often influences designers to produce lighting fixtures reminiscent of the object.
Today, you can find many different light fixtures that are an ode to the Sputnik chandelier design. Here are a few I found that you can buy today.
Panton chair by Verner Panton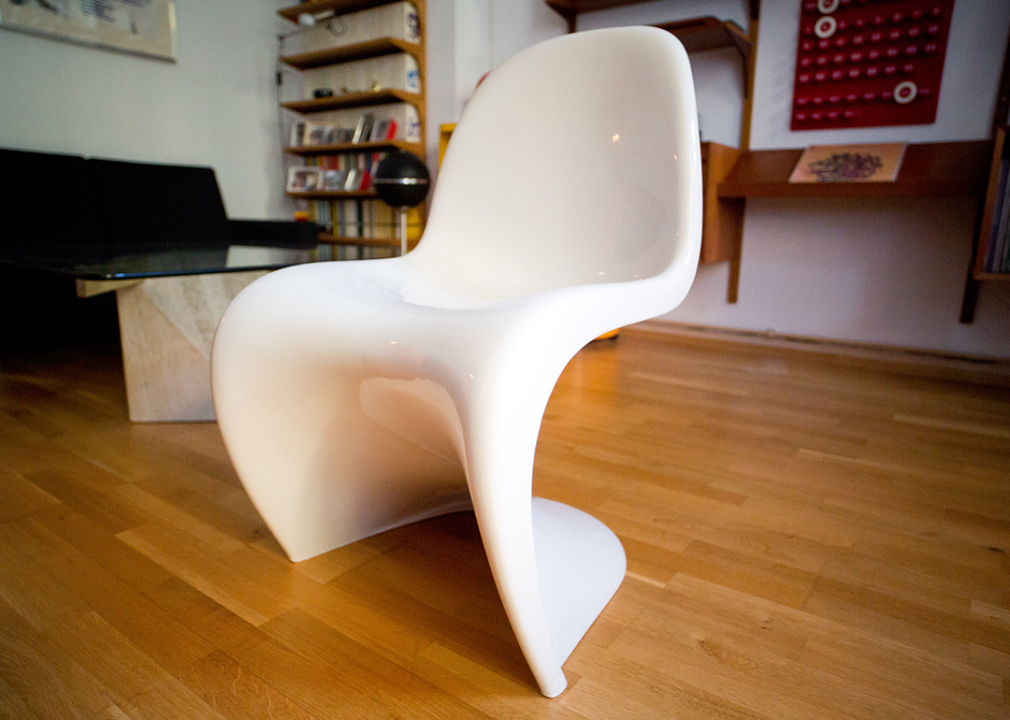 Daniel Naupold/picture alliance via Getty Images
During the Space Age, single-use plastics became a popular design material. These often appeared in futuristic, unique shapes. Swiss designer Verner Panton's eponymous chair, the Panton chair, is one of the most iconic examples of this fusion of utopian, forward-looking design and large-scale plastic use.
The Panton chair, made out of a single piece of plastic, has a sleek, S-shaped cantilever design that plays off plastic's contradictory features: flexibility and rigidity. It also caught the eye with its bold form and single color, a concept it popularized on a grand scale after its 1967 debut. However, despite being a technological marvel, creating the chair in its original specifications was impossible until decades later, in 1999.
Now you can find it on Amazon of all places. In fact, you'll find listings in the original white plastic as well as clear plastic. This is perfect for seating around your mid-century modern table or in your living room for hanging out.
Tulip table and chairs by Eero Saarinen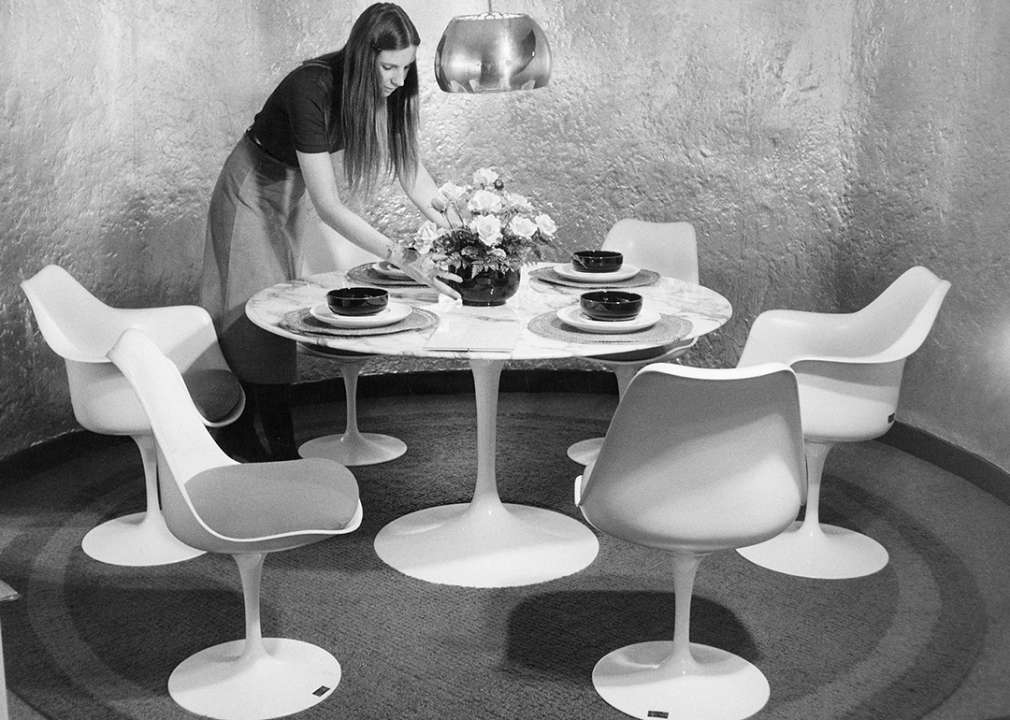 Kühn/ullstein bild via Getty Images
Finnish American designer Eero Saarinen created the Tulip table and chairs. The furniture pieces make use of molded fiberglass shells and an aluminum stem. Stanley Kubrick's iconic 1968 sci-fi film, "2001: A Space Odyssey," featured a Tulip-style table.
On Etsy, people sell actual Eero Saarinen mid-century modern chairs and tables, or at least sets that Saarinen inspired. All of these would look fab in a mid-century kitchen as your dining set.
Ball chair by Eero Aarnio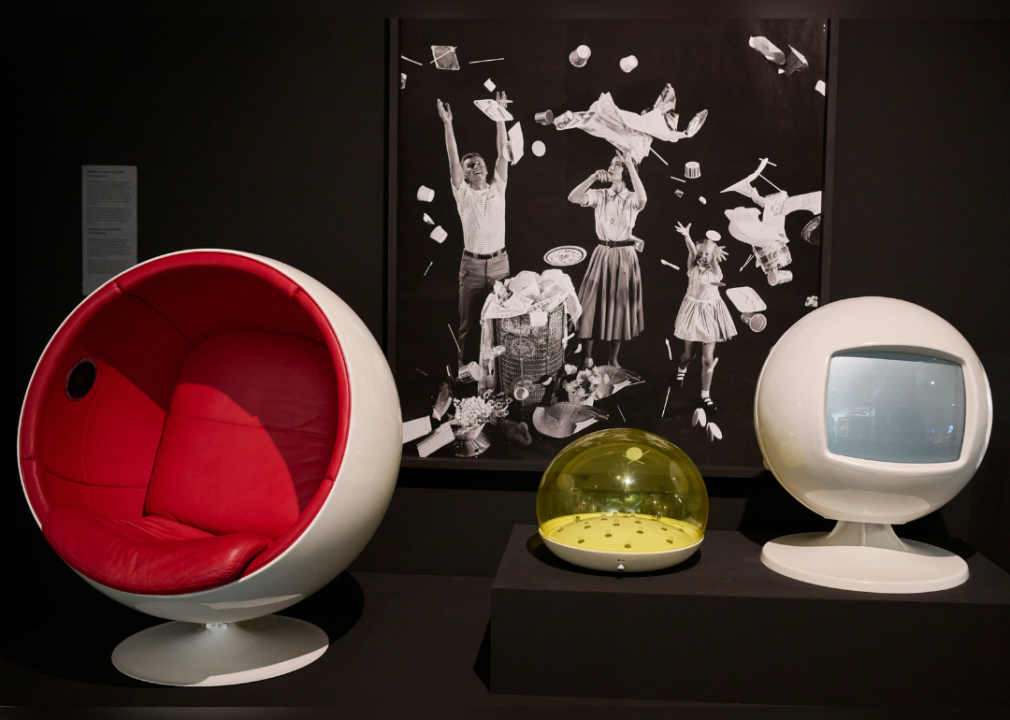 Horacio Villalobos#Corbis/Corbis via Getty Images
Despite not setting out to create a futuristic design, Eero Aarnio's Ball chair has gone down in history as one of the most iconic Space Age designs. It is arguably one of the most iconic industrial design pieces, period.
Ball chairs, made of fiberglass, immediately call to mind futuristic pods. They have precise geometry, synthetic materials and eye-popping colors. When released in 1966, they evoked a man-made future. The design was also popular onscreen, appearing in well-known science fiction films such as "Mars Attacks."
This mid-century modern marvel is harder to replicate in shopping today. Sure, you can find prints on Etsy of the ball chair. However, if you wanted actual furniture for your living room, you'll have to settle for items that represent the ball chair aesthetic instead of the ball chair itself. Here are two options.
Inflatable sofa by Quasar Khanh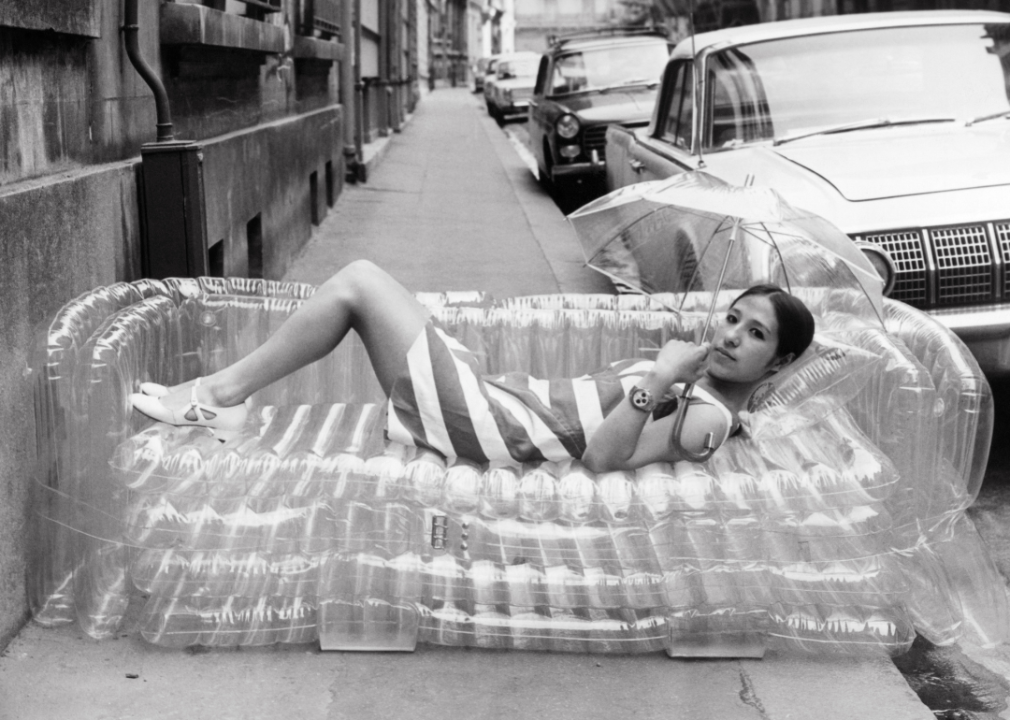 KEYSTONE-FRANCE/Gamma-Rapho via Getty Images
Quasar Khanh's affiliation with Space Age design goes hand in hand with name. After marrying his wife, fashion designer Emmanuelle, in 1957, he took on the name Quasar. In case you're not up on astrophysics, that's a term that describes a bright object that black holes power.
Today, he is best known for his "inflatable sofa." The concept became so popular that it appeared in a Vogue family photograph in 1970.
A vintage ad for one of the designer's inflatable pieces boasted it "will float you into the comforts of 'tomorrow" and that it was as "modern as a stroll on the moon."
As esoteric as the inflatable couch seemed in the 1960s, it is pretty common today. In fact, if you search Amazon for clear plastic inflatable furniture, you'll get a ton of results. Here are a few to consider.
Story editing by Carren Jao. Copy editing by Kristen Wegrzyn. Abby Monteil contributed.
This story originally appeared on Living Spaces and was produced and distributed in partnership with Stacker Studio.